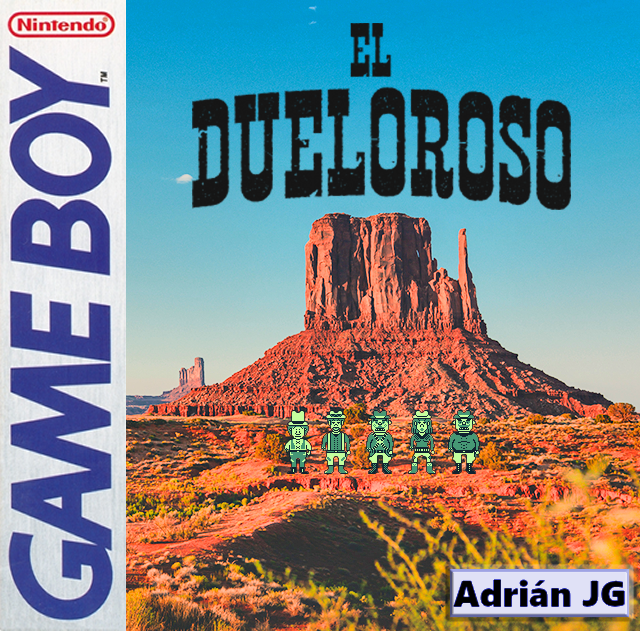 El Dueloroso
A downloadable Game Boy ROM
El Dueloroso is a western-themed arcade game for the Nintendo Game Boy and Analogue Pocket.
Submitted as a Game Boy Competition 2021 entry.
Made with GBDK-2020.
Source code available on GitHub.
Features:
Gameplay experience inspired by early Game Boy titles
15 levels
3 game modes
4 difficulty options
Original soundtrack and graphic assets
64 KiB ROM (with MBC1)
SRAM for high scores saving
Download
Click download now to get access to the following files:
El Dueloroso - Game Boy ROM
64 kB
El Dueloroso - Analogue Pocket ROM
64 kB
Comments
Log in with itch.io to leave a comment.
Unless there is a lot of demand for an update, this will be the final version of the game.
Loved it! Nailed the retro arcade feel! Really fun, I could not stop playing it! Great work!
Hey man great game.
The only thing I would change was a different gunshot sound effect for when you fire your last bullet. It's hard to know how much ammo you have in all the chaos. Maybe a lower pitched beep for your last shot.

I think you should also change the sound effect for when you're firing and there's no bullets. Maybe something like NR10-14 0x00,0x40,0xA1,0x14,0x87. Because right now it sounds very similar to the regular bullet sound so on my first time against the bandits I didn't know I was out of ammo.
I loved the horse game by far the most.
Great game again! Good luck in the competition!


Thank you for your feedback! I really appreciate any input.
I may have been careless with the sound effects and will try to correct this in a future release.